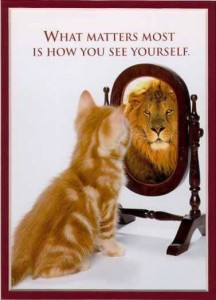 Study this photo and jot down your thoughts. What do you think the kitten is thinking? What is the kitten feeling? Don't read any further until you have studied the photo for a moment.
"What matters most is how you see yourself." There is some truth there, but it doesn't tell the full story. In this photo we see a kitten looking into the mirror and seeing himself as a lion – the king of the jungle. Is that what you saw? It is all a matter of perspective…
The kitten could be longing to be something that it is not, questioning God as to why He chose to make him a kitten rather than a majestic and ferocious animal. But what is more important here is not what the kitten may be thinking, but how you related to the photo. What thoughts did you have?
Was the kitten longing to be a lion?
Was the kitten thanking God that it didn't have to fend for itself in the jungle and that it had a warm home with food in a dish?
 Or was the lion looking at the kitten, failing to see itself as the king of the jungle?
"What matters most is how you see yourself." I'm not convinced that this is the best way to summarize this photo, for when we look in a mirror; we quickly focus on our faults, frailties, and imperfections. If you carry a few extra pounds like I do (well, more than a few), then you may tend to not look at a mirror whenever you can avoid it. At the same time, my little sister still points out to this day that I spent a little too much time in front of the mirror during my high school days, brushing my hair to perfection.
When we look into a mirror we see ourselves for who we really are: broken, imperfect, getting older and longing for who we used to be. The days seem to slip more quickly through our fingertips as we get older, but is that a bad thing?
"What matters most is how you see yourself." If this is true, then by what standards do you see yourself? Do you judge your looks by who you once were, or by who you want to be? Do you use the image in the mirror as the standard by which you judge others? Although we certainly see ourselves from an internal eye, there is someone who sees us for who we really are – and that someone is God… and He loves us just the same.
O Lord, you have searched me and you know me. You know when I sit and when I rise; you perceive my thoughts from afar. You discern my going out and my lying down; you are familiar with all my ways. Before a word is on my tongue you know it completely, O Lord. Psalm 139:1-4
In spite of our frailties, our imperfections, and our sin, God loves us (Romans 5:8). If you are a born-again believer, trusting in Jesus Christ for your salvation, your sins have been washed by the blood of the Lamb who is also called the Lion of the Tribe of Judah (Revelation 5:5-6).
A window lets light in, and a mirror reflects. Allow the Word of God to permeate your life in order to shed light on who you truly are, and may the image in the mirror reflect who God is in your life.
Do not merely listen to the word, and so deceive yourselves. Do what it says. Anyone who listens to the word but does not do what it says is like a man who looks at his face in a mirror and, after looking at himself, goes away and immediately forgets what he looks like. But the man who looks intently into the perfect law that gives freedom, and continues to do this, not forgetting what he has heard, but doing it – he will be blessed in what he does. James 1:22-25
And don't ever forget … God can use our brokenness for His glory!